Parker SSD 590P Integrator Series (2Q or 4Q)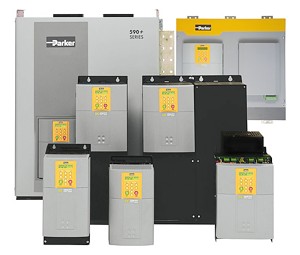 The Integrator series is a single family of both AC drives (AC690P) and DC drives (DC590P) that provides the benefits of common programming, set-up and communication across both technologies.
The DC590P Integrator series highly advanced DC drive meets the demands of the most complex motor control applications.
Extensive application software (including winder control as standard) together with Function Block Programming and configurable I/O creates a total drive system in a single module.
Extremely simple set-up and programming
Removable key pad
Extremely compact
Motor thermistor input
Options
Programmable key pad 6901
Technology box for communication (ProfibusDP, Devicenet, CanOpen, LINK, LonWorks, EI Bisynch/RS422/RS485, Modbus RTU)
Speed feedback technology box (analogue tachometer, encoder microtach for acrylic F.O., microtach for glass F.O.)
EMC Filter- Industrial Ambience
Line Reactors for European and North American markets (UL-CSA)
Line Inductors for long motor leads
Analogue DC Drives
Digital DC Drives
Certified Parker Distributor Electromechanical-Drives