Parker SSD AC890 Series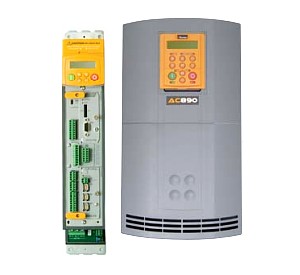 Overview
The AC890 series is a range of modular AC drives designed to control speed and position of open-loop and closed-loop, single-motor or multi-motor AC Induction or Brushless or Servo motor applications. The AC890 covers powers from 0.55kw to 315kW.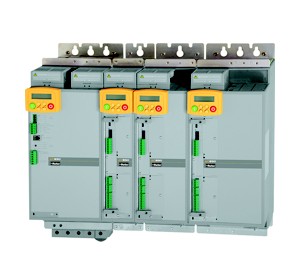 Power Range
The AC890PX covers a power range from 110kW to 2000kW. It is available as a standalone drive or as part of a high power drive system and incorporates removable phase and control modules.
Modular
The plug-in modular construction of the AC890PX-M Modular Chassis enables the drive to be configured to suit a number of alternative input power configurations including12/18 pulse and Active Front End (AFE). The PowerPak phase modules, common supply modules, capacitor and control modules can be arranged to suit particular application requirements.
The AC890 can be configured to provide control in four different modes of operation:
Open-loop (V/Hz) control

For simple, single or multi-motor speed control.

Sensorless Vector control

High performance sensorless vector giving a combination of high torque and close speed regulation without speed sensor.

Closed-loop Vector control

This is achieved by the addition of an encoder feedback module. Provides 100% continuous full load standstill torque and highly dynamic speed loop.

4 Quadrant Active Front End (AFE)

The AC890 can be used to feed regenerative energy back on to the mains supply in line with unity power factor and in line with international harmonic limits.

Additional components are required to implement and Active Front End (AFE).
Certified Parker Distributor Electromechanical-Drives