Parker SSD AC10 Series (IP.66)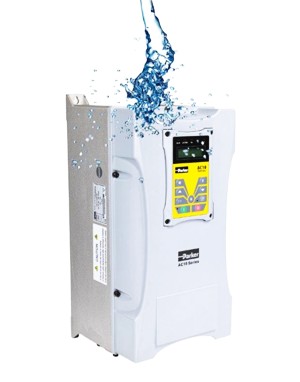 The AC10 series compact drive in IP.66 protected enclosure enables use in more robust indoor and outdoor environments such as wash-down areas in food and beverage industries. It provides a low-cost solution for simple induction motor control up to 15kW in IP.66 protection.
Auto tuning sensorless vector mode provides improved dynamic speed or torque control to benefit from the drives enhanced 0.5% speed and 5% torque accuracy.
Key Features
Optional clone module to upload and download parameters
RS232/RS485/Modbus comms interfaces
0-40 deg.C operating temperature
150% Overload for 60secs
Optional Internal EMC filter for C3 industrial environments
Conformal coating provides protection for class C3 environments
Assignable digital I/O and relay output
Analogue I/O for connection to speed potentiometers, and panel meters
Internal Brake switch as standard
Certified Parker Distributor Electromechanical-Drives